Georgina Cue (AU)
Pictures
5 February 2021 - 6 March 2021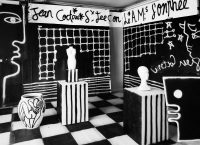 Image: Georgina Cue, Orpheus, 2020.
When
5 February 2021 - 6 March 2021
Venue
44 Glasshouse Rd, Collingwood
Thu – Sat, 12pm – 5pm
Accessibility
Wheelchair access, Accessible Toilets
Georgina Cue explores female identity through self-portraiture and performance in a new photographic series for PHOTO 2021.
Cue is known for her ongoing interest in theatrical staging and narrative in photography. Referencing Dada, experimental film, constructivist theatre and graffiti culture, Georgina uses DIY materials such as cardboard, spray paint and tape to create large-scale, vibrant and colourful stages. These theatrical stages then become the background for photographs in which the artist often features as the central protagonist.