Routes/Roots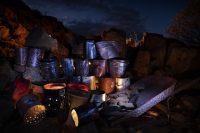 Western Arrente, Yankunytjatjara and Pitjantjatjara artist Robert Fielding's new work is grounded in archival, institutional and community research. It raises questions about ownership of cultural knowledge, the institutionalisation of sacred objects, and change as an integral part of resilient cultures.
Led by an enquiry into cultural objects that have been collected and removed from country since the beginning of colonisation, Fielding has followed the stories held within these objects to several national archives, connecting the dots between Afghan cameleers and nomadic trade routes of the central desert.
This exhibition was part of PHOTO 2021's expanded program and can now be viewed online on the venue's website.