Spooky Action (at a distance)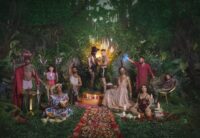 When
12 February 2021 - 27 March 2021
Venue
1 Market St, Newport
Wed – Sat, 12pm – 6pm
Fri, 12pm – 8pm
Accessibility
Wheelchair access
Collaborating with performers, choreographers and musicians including Melanie Lane, Oren Ambarchi, Bhenji Ra and Eric Avery, Amos Gebhardt brings a cinematic force to large-scale, moving image installations and photography.
Gebhardt gives power to both human and non-human narratives in their explorations of the intersections between culture, nature and the body, explorations presented now—for the first time—in this new exhibition. Centred on themes of identity, queerness, resistance and entanglement, this extensive series of Gebhardt's works form a labyrinth of film and photographs that unify the artist's practice in a bold new way.
Featured works include Evanescence—a 20 metre video installation where 40 performers merge with materials of the earth in endless cycles, There are no others—a portrait of gender diverse people rising into the firmament, and Lovers—a black and white ode to the extraordinary language between horses during mating season.