Online Talk: Felicity Hammond and Sara, Peter & Tobias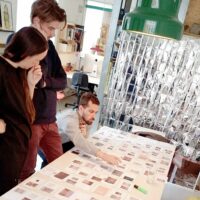 When
27 February 2021
Saturday, 8-9am
(AEST)
Join Danish collective Sara, Peter & Tobias and British artist Felicity Hammond for an exclusive online conversation about their book-making practices to launch the Photobook Weekend.
Chaired by Elias Redstone, PHOTO 2021 Artistic Director.
The talk will be broadcast on photo.org.au and Facebook Live
No bookings required
Supported by the Goethe-Institut
Part of PHOTO 2021's Photobook Weekend
Speakers
Sara, Peter & Tobias (DK)

In 2015, Sara Brincher Galbiati, Peter Helles Eriksen and Tobias Selnaes Markussen formed a artistic collective in which they document subject matters that revolve around disputed interpretations of reality. They place themselves in the intersection between traditional documentary and art photography. The collective has a conceptual approach which examine issues founded on theories and first-person accounts alongside hard facts. They utilize an anthropological method of combining photography and extensive research. Throughout their projects they share and collaborate on every aspect of the process—from research, interviewing, shooting pictures to editing the final photos and text.

Felicity Hammond (UK)

An artist and educator based in London, Felicity Hammond has developed a practice that both uses and critiques photography, fusing the photographic image with installation. Her expanded approach to photography has been widely recognised through awards such as British Journal of Photography's International Photography Award and Foam Talent. With an MA in Photography from Royal College of Art in 2014, Hammond is currently undertaking TECHNE funded research in the Contemporary Art Research Centre at Kingston University, looking at digital representations of the built environment and their relationship with site. Throughout her career, Hammond has worked with major institutions including Tate Modern, The Whitechapel Gallery, The Photographer's Gallery and The Saatchi Gallery, and her work is held in international collections.

Dieter Neubert (DE)

Dieter Neubert is Founder and Director of the Kassel Fotobookfestival and Founder of the Kassel Photobook and Dummy Awards.