Talk: Leyla Stevens with Lauren Carroll Harris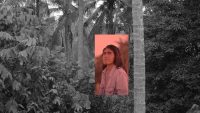 Image: Leyla Stevens, A Line in the Sea (2019), 3 channel video, stereo sound, 10:58 mins.
When
20 February 2021
Saturday, 4-5pm
(AEST)
Leyla Stevens' three-channel video work, A Line in the Sea, draws from the genre of surf films to contest the construction of Bali as an island paradise within the Australian imagination. In conversation with curator and cultural critic Lauren Carroll Harris, Stevens will discuss her use of slow photography and expanded documentary methods in relation to post-trauma landscapes.
Part of PHOTO 2021's Launch Weekend.
Free online event – booking required.
Speakers
Leyla Stevens (AU/BALI)

Leyla Stevens is an Australian-Balinese artist and researcher who works predominately within moving image and photography. Her practice is informed by ongoing concerns around gesture, ritual, spatial encounters, transculturation and counter histories. Working within modes of representation that shift between the documentary and speculative fictions, her work deals with a notion of counter archives and alternative genealogies. Recent exhibitions and selections include: Their Sea is Always Hungry, UTS ART, Sydney 2019; 2019 NSW Visual Arts Fellowship (Emerging) Artspace, Sydney; 2018 John Fries Award at UNSW Galleries, Sydney; BEAUT 19, Triennale of Unwhere, Brisbane 2019; Of Love and Decomposition, Firstdraft, Sydney 2016; 2014 NSW Visual Arts Fellowship (Emerging) Artspace, Sydney; and SafARI Biennale, Sydney 2014. She is the recipient of multiple New Work and Development grants from the Australia Council for the Arts and is currently undertaking doctoral research at the University of Technology Sydney.

Lauren Carroll Harris

Lauren Carroll Harris is a writer and curator. She has contributed cultural criticism and arts journalism to Cineaste, The Baffler, The Toast, The Saturday Paper, 7am podcast, the Guardian Australia, Senses of Cinema and The Monthly's website, among others. She has worked as a producer and broadcast critic for Radio National's The Screen Show, and as assistant editor at RealTime art magazine. In 2019, she founded Prototype, an experimental video art unit and moving image platform. She has a PhD in cinema studies from UNSW.