Talk: Ross McDonnell and Philip Montgomery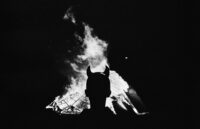 When
21 May 2022
Saturday, 11:30am-12:30pm
(AEST)
Regions
Venue
37-47 Thistlethwaite St, South Melbourne
Price
Free, bookings required
Join US based artists Ross McDonnell and Philip Montgomery in conversation with Daniel Boetker-Smith as they discuss their Photobooks Joyrider and American Mirror.
American Mirror is award-winning photographer Philip Montgomery's dramatic chronicle of the United States at a time of profound change. Through his intimate and powerful reporting and a signature black-and-white style, Montgomery reveals the fault lines in American society, from police violence and the opioid addiction crisis to the COVID-19 pandemic and the demonstrations in support of Black lives. Yet in his unflinching images, we also see moments of grace and sacrifice, glimmers of solidarity and tireless advocates for democracy. Like Dorothea Lange and Walker Evans before him, Montgomery has made an unforgettable testament of a nation at a crossroads.
Set against the backdrop of the Ballymun housing estate in Dublin, Ireland, Joyrider is a coming of age story, documenting rites of passage on the 'block,' experiences that convert youthful abandon to criminal enterprise. Inspired by societal changes in his native Ireland, McDonnell spent several years working in the area as residents were being relocated in anticipation of the complex's final demolition.
Joyrider depicts a marginalized youth reclaiming the space around them in the face of this urban regeneration. We see, writ large, the forces and tensions that shape us all as young individuals: creation and destruction, inclusion and escapism, environment and identity.
Ross McDonnell and Philip Montgomery have exhibitions on at Le Space Gallery as part of PHOTO 2022.
Artists
Daniel Boetker-Smith (AU)

Daniel Boetker-Smith is an educator, writer, curator, publisher, and photographer Daniel is the Dean of Photography at Photography Studies College (Melbourne) and the Director of the Asia-Pacific Photobook Archive, a not-for-profit library of self-published and independent photobooks.

Ross McDonnell (IE)

Born 1979, Dublin, Ireland
Lives and works New York, U.S.

Ross McDonnell is a filmmaker and photographer. Ross' early experience of travel and his love of cinema sparked a fascination with image making and storytelling. His work reflects his interest in the open-ended nature of non-fiction and the tensions, inherent in the photographic process, between transience and permanence.

Ross' debut feature film Colony premiered at TIFF and won the IDFA First Feature Award. Since then Ross has continued moving between disciplines as Director, Cinematographer and Producer. In 2021 he won an Emmy Award for his Cinematography on The Trade and was shortlisted for the Prix Pictet in 2019 for his project, Limbs.

Philip Montgomery (MX/US)

Born 1988, California, U.S.
Lives and works New York, U.S.

Philip Montgomery is a photographer whose work chronicles the fractured state of America. He is a contributor to The New York Times Magazine, Vanity Fair, The New Yorker, and Zeit Magazine. He has received numerous awards, including the National Magazine Award for feature photography for his work chronicling the opioid epidemic. His work has been exhibited at the ICP in New York, Foam Museum in Amsterdam, the Annenberg Space for Photography in Los Angeles, Aperture Gallery in New York, Les Rencontres d'Arles in France, and the Deichtorhallen House of Photography in Germany. Montgomery's monograph, American Mirror, will be published by Aperture in Fall 2021.