Angela Tiatia (Sāmoa/AU)
The Dark Current: Blue screen
1 March 2024 - 24 March 2024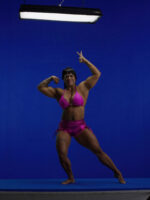 Image: Angela Tiatia, from the series The Dark Current: Blue Screen, 2023.
Blurring the lines between real people and imagined scenarios.
When
1 March 2024 - 24 March 2024
Venue
Southbank Promenade, Southbank
24 hrs
Accessibility
Wheelchair access
Price
Free
We are living in a moment of flux, where the digital and the physical are beginning to meet.
The portraits in The Dark Current: Blue screen sit at the intersection the realms of digital and physical space and the blue screen of a monitor seems to morph into the blue surface of a surging ocean. On one side of these lightboxes, figures pose, primed to enter a digital space. Their stances, costumes and the setting within which they stand all combine to prepare them to be avatars within the artist's computer-generated, meticulously crafted live-action scenes…yet on the reverse of each of these images, a figure plunges into water, entering another dimension altogether.
Angela Tiatia's work is inflected by her Samoan heritage, and she often explores contemporary culture through the lenses of history, popular and material culture. These portraits form part of a larger series of work, Dark Current, for which the artist spent three years filming across four countries. The result is a sweeping series of twists and turns through a variety of scenarios to conjure a hopeful vision for the future.
Curated by PHOTO Australia Commissioned by PHOTO Australia and the City of Melbourne