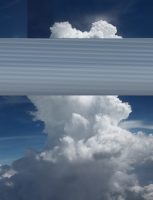 Image: Michael Gray, Batu Karas, 2018.
Leading Australian and international artists, photographers and technologists explore the impact of machines viewing and making photographs.
If the photograph has conventionally been understood as a record or memory of the world, what happens when the image looks back? This exhibition explores the reconfiguration of photography in the context of algorithmic processes, machine vision and networked circulation.
Responding to social and political ramifications of profound changes in the ecology of the image, artists, photographers and technologists ask how notions of visual truth and human experience are shaped by new technologies of vision.
This exhibition is part of PHOTO 2021's expanded program.
Curators
Alison Bennett (AU)

Alison Bennett is an artist and academic whose broader practice is situated in 'expanded photography'. Their work has explored the performance and technology of gender identity and considered the convergence of biological and digital skin as virtual prosthesis. Work has been featured on ABC TV Australian Story, the New York Times, Mashable, The Huffington Post, BuzzFeed, Motherboard, The Creators Project, KillScreen, ABC TV News, and The Guardian 'best Australian photographs of 2015'. They are a founding member of the QueerTech.io artist collective, a member of the Gertrude Street Projection Festival Advisory Committee, and served on a number of development panels for the Midsumma Festival. Bennett works as a Lecturer in photography at RMIT School of Art where they are Program Manager of the Bachelor of Arts (Photography).

Shane Hulbert (AU)

Shane Hulbert is a Melbourne based artist, curator and academic.  His work has been shown nationally and internationally, most notably at the National Gallery of Victoria and the Centre for Contemporary Photography (CCP), both in Melbourne, Australia and the Pingyao International Photography Festival in China. He is currently Associate Dean, Photography, at RMIT University in the School of Art.  He writes on contemporary art and art education, and his photographic practice explores the expression of a collective national Australian identity through distinct and popular iconography that connects place, history and culture.

Rebecca Najdowski (US)

Rebecca Najdowski is an artist, curator, and academic based in Melbourne, Australia. Her images, objects, and films have been presented internationally, including Aperture Gallery in New York; FORMAT Festival in the United Kingdom; and Athens Digital Art Festival in Greece. Recently, she curated A Field Guide to the Stars as part of the 2017 Ballarat International Foto Biennale's Core Program. Najdowski was awarded a Fulbright Fellowship to Brazil and was an Artist Fellow at the Center for Creative Photography in Tucson, Arizona. She received an MFA from California College of the Arts in San Francisco and is undertaking a PhD at Victorian College of the Arts (University of Melbourne) where her research is a critical and ongoing inquiry into how humans engage, relate to, and think of nature. Najdowski is currently a Lecturer in photography at RMIT University.

Daniel Palmer (AU)

Daniel Palmer is Professor and Associate Dean of Research and Innovation in the School of Art at RMIT University, Melbourne. His books include Photography and Collaboration: From Conceptual Art to Crowdsourcing (Bloomsbury 2017); Digital Light (Open Humanities Press, 2015), edited with Sean Cubitt and Nathaniel Tkacz; The Culture of Photography in Public Space (Intellect 2015), edited with Anne Marsh and Melissa Miles; Twelve Australian Photo Artists (Piper Press, 2009), co-authored with Blair French; and Photogenic (Centre for Contemporary Photography, 2005).