Peta Clancy (BANGERANG, AU)
Undercurrent
12 November 2020 - 28 March 2021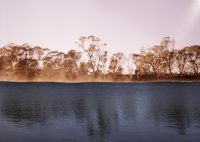 Peta Clancy, Undercurrent, 2018-19, inkjet pigment print. Courtesy the artist and Dominik Mersch Gallery.
When
12 November 2020 - 28 March 2021
Venue
42 View St, Bendigo
Mon – Sun, 10am – 5pm
Accessibility
Wheelchair access, Accessible Toilets
Peta Clancy's photographic work explores hidden histories of colonisation and seeks to challenge viewers to focus on what may have been missed, denied or concealed. In 2018-2019 Clancy collaborated with the Dja Dja Wurrung community to investigate massacre sites on Dja Dja Wurrung Country producing the body of work Undercurrent in response to a site now submerged underwater; seeing this as a metaphor for the denial of the history of frontier violence in Australia. Undercurrent at Bendigo Art Gallery features large-scale photographic prints, an expansive wallpaper and immersive soundscape in conversation with a suite of 19th century European paintings and works on paper from Bendigo Art Gallery's historic collection selected by Dja Dja Wurrung artist and curator Natasha Carter.
Undercurrent was developed during the Koorie Heritage Trust's residency program, supported by the Federal Department of Communications and the Arts' Indigenous Languages and Arts Program, Gandel Philanthropy and with significant cultural support from the Dja Dja Wurrung community namely Rodney and Natasha Carter, Michael Bourke and Amos Atkinson.
Ticketed general admission is FREE. Bookings are essential. Conditions apply.