Ulrich Wüst (DE)
Wanderings About History
1 March 2024 - 20 April 2024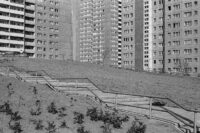 Image: Ulrich Wüst, Berlin 1982, from the series Stadtbilder (1979–1985). Courtesy the artist and ifa.
Constant change: a sharp lens on German history.
When
1 March 2024 - 20 April 2024
Venue
344 Swanston St, Melbourne
Tue – Fri, 11am – 5pm
Sat, 12.30pm – 5pm
Accessibility
Wheelchair access
Price
Free
German photographer Ulrich Wüst's work captures his wanderings through his nation's history—from the social and urban transformations of the GDR and its disintegration, through the German reunification, to the present day. Wüst revives German history in a new, static way. The past and present clash in a dynamic and ever-changing environment.
Wanderings About History shows a selection of photographs taken between 1978 and 2019. While the observations captured here are rooted in Germany's division and its mending, at the same time they always relate to universal phenomena of social change and its material manifestations. The seemingly terse images, extremely precise in their composition, are the fruits of lengthy visual wanderings through present sites of recent history.
Curated by Matthias Flügge An exhibition by ifa – Institut für Auslandsbeziehungen e.V., Stuttgart, in partnership with the Goethe-Institut
Curators
Matthias Flügge

Matthias Flügge, a German art historian and curator, was born in 1952 in Demmin, Mecklenburg-West Pomerania. He studied fine arts at Humboldt University Berlin from 1972 to 1976 and has since established himself as a freelance curator, exhibition organizer and critic. Flügge was formerly editor-in-chief of the journals 'Bildende Kunst' and 'Neue Bildende Kunst', and most recently served as rector of the Dresden University of Fine Arts from 2010 to 2022. Furthermore, he held the position of Secretary for the Fine Arts Class in 2022. Since 2005, he also has worked as a program manager at the Guardini Gallery in Berlin.