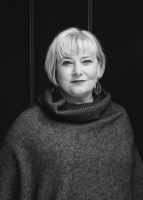 Introducing... Metro Tunnel Creative Program
21.1.21
We spoke with Mary Parker, Director Communications & Creative, about the Metro Tunnel Creative Program, its public art initiatives, and partnering with PHOTO 2021.
Hi Mary. Please begin by telling us what you love most about what you do.
I love the pragmatism of what we are able to deliver as part of the program. To me, using a major infrastructure project to have revolving showcase of works by local artists is a wonderfully 'Melbourne' solution to disruption. It's also great working with so many different organisations—we work very closely with Rail Projects Victoria but also many arts organisations, councils and festivals.
Also, the Metro Tunnel will be complete and operating for many years longer than it is being built. So while the construction is what the city is experiencing at the moment – it will actually become a shortish part of history of the project. Using our artists to capture and interpret the build during this period is a wonderful thing to do. I always thought it was really cool to look back at works like those by Grace Cossington Smith of the Sydney Harbour Bridge half-way finished.
Why was the Metro Tunnel Creative Program established, and what does it do?
The program has a number of clear objectives but in a nutshell, it is there to soften the edges of construction.
The Metro Tunnel Creative Program runs one of the most ambitious public art programs in Melbourne. Why is public art so important?
Can I flip this question? What if we all decided public art wasn't important at all? Nothing of stature in your local park, nothing commemorating history, no colourful laneways, no silo art, nothing to take a selfie beside to send to your mate, nothing that you stumble across on your way to get your coffee that makes you smile, nothing iconic to arrange to meet someone beside (on my very first day in Melbourne after arriving from NZ in 2007, my friend said, 'Meet me by the giant coin purse on Bourke St'), no light installations, no murals, nothing to prod you think differently, no outdoor concerts or performances, nothing colourful on our streets or in our parks—does that sound like a place we would really like to hang out? I feel we are always asked to justify spend on public art but I'd wager people would be even more outraged and miserable without it.
Which project are you most proud of to date?
It's hard to go beyond the creative works that are on the hoardings surrounding what will be the new Parkville Station. Photographer Phoebe Powell's 'Thank you' photo essay to health care workers, clinicians and medical researchers was a perfect way to creatively acknowledge people who helped us stay safe during the pandemic. It's been great to see Phoebe evolve this piece with her collaboration with Kate Disher-Quill for PHOTO 2021, Surge.
The illustrations that cover the pedestrian gantries along Grattan St tell the stories of some of the unsung heroes of the biomedical precinct. We have literally 'peopled' the area and used the hoardings for visual and aural, storytelling.
We are excited to be bringing some of the world's best photographers to Metro Tunnel hoardings. Why was it important for the Metro Tunnel Creative Program to partner with PHOTO 2021?
It was such a natural fit really—partnering with PHOTO 2021 allowed us to do a takeover of all sites however with the medium being photography, we could curate location appropriate artworks, which Artistic Director for PHOTO 2021, Elias Redstone, has done beautifully.
As Melbourne slowly emerges out of lockdown, what role will art and art festivals play in the life of the city?
Like many industries, public art and Festivals will need to reinvent how they engage people in a Covid safe way. We need people to feel comfortable coming to art events so that they can confidently plan their trips to the city. That's why we are working closely with the City of Melbourne as we have the bonus of being a giant outdoor gallery that can be viewed from the street.
Which artists or exhibitions are you most excited to see at PHOTO 2021?
And finally, how can artists put themselves forward to work with the Metro Tunnel Creative Program?
We have an Artist Pool which opens for registrations one month a year. So this year it will be in June. To find out when it opens and how to get involved, people can sign up the Art of Rail newsletter here.