Lillian O'Neil (AU)
Everything Forever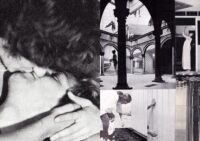 Image: Lillian O'Neil, Everything Forever (detail), 2020.
Venues
Cnr Grattan and Leicester Sts, Carlton
Outdoor work – accessible all hours
Accessibility
Wheelchair access
Everything Forever is a series of collages composed of photos taken from secondhand books by artist Lillian O'Neil.
Collecting the books from book fairs, archives and op-shops, O'Neil draws upon an extensive collection of pictures to investigate the contrast between obsolete pre-digital photographs and the infinite proliferation of digital images today.
Favouring photographs that encapsulate a sense of passing time, natural vs. developed landscapes, human drama and shifting erotic perspectives, O'Neil builds each element into a grander narrative: a place where microcosm and macrocosm exist in one visual to become a monument to a disappearing photographic texture.
Commissioned by Photo Australia and the Metro Tunnel Creative Program for PHOTO 2021
On display from 18 February 2021