Talk: Georgina Cue and Mark Feary
20 February 2021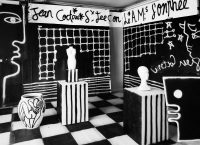 Image: Georgina Cue, Orpheus, 2020.
When
20 February 2021
Saturday, 4pm
(AEST)
Venue
44 Glasshouse Rd, Collingwood
Thu – Sat, 12pm – 5pm
Accessibility
Wheelchair access
Artist Georgina Cue will be in conversation with Gertrude's Artistic Director Mark Feary, discussing her current exhibition Pictures as well as offering insight into her practice and working methods.
Part of PHOTO 2021's Launch Weekend.
Free – bookings required. Registration coming soon.
Speakers
Georgina Cue (AU)

Georgina Cue lives and works in Melbourne. She completed a Bachelor of Fine Arts in Painting in 2008, and Honours in 2011 at the Victorian College of the Arts, Melbourne. Selected solo exhibitions include: Scenes, Neon Parc, Melbourne (2018); Stages, TCB Art Inc., Melbourne (2017); Living Room, Bus Projects, Melbourne (2016); and The Centre Doesn't Hold, Utopian Slumps, Melbourne (2014). Selected group exhibitions include: Tromp L'oeil, Sullivan + Strumpf, Singapore (2018); Gertrude Studios 2018, Gertrude Contemporary, Melbourne (2018); Auto Body Works, Arts Project Australia, Melbourne (2018); Ramsay Art Prize, Art Gallery of South Australia, Adelaide (2017); Redlands Konica Minolta Art Prize, National Art School Gallery, Sydney (2017); Tricking the Eye — contemporary Trompe L'oeil, Geelong Art Gallery (2016); and Melbourne Now, National Gallery of Victoria, Melbourne (2013). Georgina Cue is a Gertrude Contemporary Studio Artist (2018-2020).

Mark Feary

Mark Feary is the Artistic Director of Gertrude Contemporary, Melbourne. He has worked within the visual art sector for fifteen years in a range of contemporary art centres, universities, museumsand artist-led initiatives, with an emphasis on contemporary art and almost exclusively within the not-for-profit sector. Feary has worked in curatorial and programming roles at Australian Centre for Photography, Sydney; Artspace, Sydney; Tokyo Metropolitan Museum of Photography; Centre for Contemporary Photography, Melbourne; and West Space, Melbourne.