Hayley Millar-Baker (AU)
I Will Survive
10 February 2021 - 6 March 2021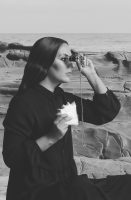 Image: Hayley Millar-Baker, detail from I Will Survive, 2020. Courtesy the artist and Vivien Anderson Gallery.
When
10 February 2021 - 6 March 2021
Venues
328 Swanston St, Melbourne
24 hrs
Ground Fl, 284 – 290 St Kilda Road, St Kilda
Tue – Fri, 11am – 5pm
Sat, 12pm – 4pm
Accessibility
Wheelchair access
I Will Survive is a new body of work from acclaimed artist Hayley Millar-Baker. Drawing on childhood memories of imparted cautionary tales and instructions for surviving in the bush, Millar-Baker creates works based on stories that have been passed down in the form of warnings, myths, ghost stories and hauntings.
Through meticulous photographic assemblage, the series considers how personal and collective memories change over time in their retelling, and the ways past experiences continue to flow into—and shape—the present. Across these works, Millar-Baker positions herself in relation to a manifold history in order to dissect the ways it haunts us now, and offer up imaginings of our possible futures. Bringing together landscape photography and studio self-portraiture, I Will Survive is a playfully dark and defiant series—an offering of enigmatic narratives that tell us how we can learn through fear, and grow a voice through survival.