29 April 2022 - 22 May 2022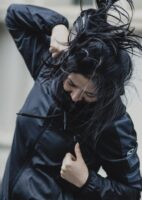 Image: Rachel Main, Jannie at the 1010 Session, Melbourne, 2021. Courtesy the artist.
When
29 April 2022 - 22 May 2022
Venue
89 Islington St, Collingwood
Thu – Sun, 12pm – 5pm
or by appointment
Accessibility
Wheelchair access
Price
Free
Photo Australia's showcase of Victoria's most exciting emerging photographers returns with seven artists who bring new perspectives to the human experience, photography and visual culture.
Pitta Pitta woman Jahkarli Romanis unpacks the continuing negative impacts of colonisation, uncovering biases in contemporary mapping technologies. Jake Nemirovsky's practice blurs the distinction between the real and the fictional, reassessing documentary image-making conventions for a post-truth world.
Inspired by his Indigenous Brazilian heritage, João Marco Deloie works to decolonise the camera, synthesising cultural practice into his artistic practice, while Olivia Mròz examines themes surrounding identity, sex and queerness. Rachel Main offers an insider's view of Australia and Aotearoa's female Krump dance communities, J Davies reveals queer intimacy and bodies, and Isabella Darcy investigates the value we place on objects to explore material culture and human consumption.
Curated by Photo Australia
Supported by the Victorian Government through Creative Victoria
Supported by The PrintShop @ PSC with paper sponsorship by CANSON Infinity
As part of the New Photographers program each photographer is provided with professional development support including mentorship by an international artist or curator.
Mentors: Sam Contis (US), George Georgiou (UK), Felicity Hammond (UK), Florian Hetz (DE), Alona Pardo (UK), Sara, Peter & Tobias (DK), Ann Shelton (NZ)