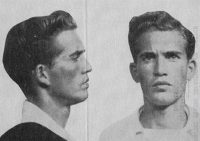 Image: Sara Oscar, Most Wanted (detail), 2020.
When
24 February 2021
Wednesday, 4-5pm
(AEST)
PHOTO IDEAS is an expanded symposium on photography, truth and power in the post-internet age, presented in partnership with RMIT School of Art and Monash Gallery of Art.
The first PHOTO IDEAS session explores the subjective nature of what we believe to be true. A panel of artists will explore how the meaning of images can mutate and adapt, taking into account time, perspective and relational dynamics. How are historical and archival photographs employed by artists to question established narratives or reveal new public and private truths? How does meaning shift alongside context? How is our understanding of what is acceptable or moral alter how we relate to photographic content?
Chaired by Isobel Parker Philip, Senior Curator of Contemporary Australian Art, Art Gallery of New South Wales, the panel will feature artists James Nguyen, Sara Oscar, Patrick Pound, Steven Rhall.
PHOTO IDEAS: CONTEXT is preceded by a keynote by American artist Sam Contis, exploring how these themes resonate in her work.
Free – booking required.
Presented in partnership with RMIT School of Art and Monash Gallery of Art.
Speakers
Isobel Parker Philip (AU)

Isobel Parker Philip is the Senior Curator, Contemporary Art at the Art Gallery of New South Wales. She has recently held the position of Curator, Photographs at the same institution. In 2019 she was the AGNSW's representative curator for the second edition of The National: New Australian Art, a major biennial survey of contemporary Australian art held across AGNSW, Carriageworks and the Museum of Contemporary Art Australia. Many of her past curatorial projects have addressed the complexity and elasticity of the photographic medium and include Imprint: Photography and the Impressionable Image (2016), New Matter: Recent Forms of Photography (2016–17), Pat Brassington: The Body Electric (2017–18) and Hold still: The Photographic Performance (2018). In 2017 she was the coordinating curator of Robert Mapplethorpe: The Perfect Medium. Isobel lectures and publishes widely and serves on the advisory committee of the Murray Art Museum Albury and is an advisor for PHOTO 2020: International Festival of Photography.

James Nguyen (AU)

Born 1982, Bao Loc, Vietnam, lives Melbourne

James Nguyen works with documentary, installation and performance. He often collaborates with members of his family to examine the politics of art, self-representation and decolonising strategies in diasporic practice. Nguyen has also collaborated with Salote Tawale in the group BAD MUDDA, and has worked with Astute Art Investments International to find interventions to engage with artists and communities from China, Australia and the greater Asia-Pacific region. Nguyen was the recipient of the Clitheroe Foundation Scholarship and the Anne & Gordon Samstag International Visual Arts Scholarship and featured in the 2019 edition of The National: New Australian Art at the Museum of Contemporary Art Australia. He is currently a PhD candidate at UNSW Art & Design, Sydney.

Sara Oscar (AU)

Sara Oscar (born 1975, Sydney) is an artist who has been working with photography for at least a decade. She works with sequences of photographs from historical archives, starting with images that are difficult to classify or speak about: such as ghosts, trauma, ruins, or the implied nature of desire. Her projects piece together photographs like puzzle arrangements. Using patterns and recurrent motifs, she plays on the photographs capacity to oscillate between visual sequence and series. These types of photographs don't fit into traditional archival structures. Working in this way, she employs strategies of appropriation, restaging and digital collage to tell stories about archival memory and visual semantics. Sara Oscar received a Doctor of Philosophy (Visual Arts) from the University of Sydney in 2008. In 2002 she completed a BVA (Hons 1) at Sydney College of the Arts, University of Sydney. In 2004 she was nominated for the Helen Lempriere Travelling Exhibition, presented at Artspace, Sydney while in 2010, she received the Kodak Award for Excellence in Photomedia presented by the Centre for Contemporary Photography, Melbourne.

Patrick Pound (AU)

Born 1962, New Zealand
Lives and works Melbourne, Australia

Patrick Pound is an Australian artist who works with collections as if on a dare. His 2017 survey exhibition Patrick Pound: The Great Exhibition was held at the National Gallery of Victoria. A major monograph was published to accompany that survey of Pound's collection-based artworks. In 2019 Pound was shortlisted to represent Australia at the Venice Biennale.  Pound has worked with many Public Gallery and Museum collections, alongside his ever-growing photo collection-based artworks. He has held over 50 solo exhibitions and been in over 80 curated exhibitions in NZ, Australia, USA, France, England, Korea, Italy, Hong Kong, Indonesia, Malaysia, etc.  Pound's work is held in many public galleries including the National Gallery, Canberra, the Art Gallery of New South Wales, the National Gallery of Victoria, the Art Gallery of South Australia, Te Papa Tongarewa, Wellington, NZ, Auckland Art Gallery, NZ, Christchurch Art Gallery, NZ.

Pound's creative practice rethinks collection and display models and unpacks how things might be found to hold and express ideas differently in gallery and museum contexts. He positions the collection as a medium. He also investigates new methods of interconnecting collection works using internet search methods as an organizing system for finding, ordering and displaying collections as artworks. The technique of the intersecting matrix hang, and the performative search engine generating internet artworks is a new development in curatorial methodology and thinking, which asks questions of our understandings of sorting and storing and searching information in the internet age, pressing us to rethink museum models of collection and display.

Steven Rhall (AU)

Born 1975, Geelong, Victoria

Steven Rhall is a post-conceptual artist operating from a First Nation, white-passing, cis male, positionality. Rhall's interdisciplinary practice responds to the intersectionality of First Nation art practice and the Western art canon. He interrogates modes of representation, classification and hierarchy using installation, performance, process lead methodologies, curatorial projects, sculpture, and via public and private interventions. Rhall exhibits internationally, lectures at the Victorian College of the Arts, is a PhD candidate at Monash University on Birrarung-ga land (Melbourne, Australia).