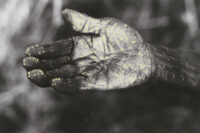 Image: Patrick Waterhouse, Look / Restricted with Ruth Nungarrayi Spencer, 2014-2018 © Patrick Waterhouse/Warlukurlangu Artists
When
4 March 2021
Thursday, 6-7pm
(AEST)
Our personal and social identities are bound up with the medium of photography, and increasingly with social media. Just as photographs of our past tell us who we are, we can use photographs to question stereotypes and share our own truths. An international panel will explore who controls how we are documented and defined. How has the democratisation of photography through digital technology and social media shifted power structures, and in whose hands is photography used as a tool for control? If social media amplifies this ongoing process of self-creation, what are some of its implications on our individual and collective identities? Can photography be a tool to convey truthful narratives, based on authentic experience and genuine desires, or is it inevitably a process of (self)deception, distortion and manipulation?
The panel features artists and educators including Larissa Hjorth, Max Houghton, Shoair Mavlian, Patrick Waterhouse. It is chaired by Melissa Miles, Associate Dean, Research, Monash Art Design & Architecture.
PHOTO IDEAS: CONTROL is preceded by a keynote by Iranian / Australian artist Hoda Afshar, exploring how these themes resonate in her work.
Presented in partnership with RMIT School of Art and Monash Gallery of Art.
Free – booking required.
Speakers
Larissa Hjorth (AU)

Distinguished Professor Larissa Hjorth is a socially-engaged artist and digital ethnographer. Hjorth has two decades experience working in interdisciplinary, collaborative, playful and socially innovative digital media methods to explore intergenerational relationships in cross-cultural contexts. Hjorth has explored the socio-cultural dimensions of mobile media in many contexts such as Japan, South Korea, China and Australia. Hjorth has published over 100 publications on the topic—recent publications include Haunting Hands (with Cumiskey, Oxford Uni Press), Understanding Social Media (with Hinton, 2nd Edition, Sage), Creative Practice Ethnographies (with Harris, Jungnickel and Coombs, Rowman & Little) and Ambient Play (with Richardson, MIT Press).

Max Houghton (UK)

Max Houghton is a writer, curator and editor working with the photographic image as it intersects with politics, law and human rights. She runs the MA in Photojournalism and Documentary Photography at London College of Communication, University of the Arts London, where she organises regular public talks, symposia and exhibitions. Her writing has appeared in publications by The Photographers' Gallery and The Barbican, as well as in the international arts press, including Foam, 1000 Words, Photoworks and Granta. She is co-author, with Fiona Rogers, of Firecrackers: Female Photographers Now (Thames and Hudson 2017) and her latest monograph essay on Mary Ellen Mark will be published in 2021 (Steidl). She is a Laws faculty scholarship doctoral candidate at University College London. With David Birkin, she is co-founder of research hub Visible Justice

Shoair Mavlian

Shoair Mavlian is director of Photoworks. She is responsible for the strategic vision and artistic direction of the organisation including exhibitions, publishing, digital content and learning & engagement. Recent Photoworks projects include 'Photoworks Festival: Propositions for Alternative Narratives' (2020), 'Ursula Schulz-Dornburg, Zone Grise/The Land In between' (MEP, Paris 2019) and 'Brighton Photo Biennial: A New Europe' (2018).

From 2011-2018 Mavlian was Assistant Curator, Photography and International Art at Tate Modern, London, where she curated the major exhibitions 'Don McCullin' (2019) 'Shape of Light: 100 Years of Photography and Abstract Art' (2018), 'The Radical Eye: Modernist Photography from the Sir Elton John Collection' (2016), 'Conflict, Time, Photography' (2014), 'A Chronicle of Interventions' (2014) and 'Harry Callahan' (2013). While at Tate Modern she helped build the photography collection and curated collection displays enjoyed by over 5 million visitors per year.

Mavlian has a background in fine art photography practice and the history of photography with a focus on the twentieth century, conflict and memory, Central and Latin American photography and emerging contemporary practice. In 2018 she was named one of Apollo Magazine's 40 under 40 Europe – Thinkers.

Melissa Miles (AU)

Professor Melissa Miles is a photography historian and the Associate Dean Research at Monash University's Faculty of Art, Design and Architecture. Her research explores the interdisciplinary qualities of photography, photography and politics, and the role of photographs and photography practices in cross-cultural relations. She is author of Photography, Truth and Reconciliation (2019), Pacific Exposures: Photography and the Australia-Japan Relationship (with Robin Gerster, 2018), The Language of Light and Dark: Light and Place in Australian Photography (2015), The Burning Mirror: Photography in an Ambivalent Light (2008), and co-editor of Photography and Its Publics (with Edward Welch, 2020) and The Culture of Photography in Public Space (with Anne Marsh and Daniel Palmer, 2015).

Patrick Waterhouse (UK)

Patrick Waterhouse (b. 1981, England) is an artist who explores the shifting nature of our understanding of the past. Through processes that play with narrative representation, his work sheds light on the construction of history and its origins. In 2008, Waterhouse began work on his renowned series Ponte City, made in collaboration with Mikhael Subotzky, in which the pair investigated the fifty-four storey cylindrical apartment building that towers over Johannesburg. Over six years they probed the varying perspectives of this icon—from its architecture to its urban legends—revealing new and alternative accounts of the building's history. Collaboration is integral to Waterhouse's practice, informing and shaping the trajectory of his projects as the work forms through conversation and engagement with those represented and the communities in which they live. In 2011 Waterhouse became Editor-in-chief of Colors magazine, creating a new editorial direction (The Survival Guides) and building a global team of photographers, designers, editors, writers, artists, researchers and bloggers. The Survival guide series consists of 10 printed issues, with touring exhibitions and workshops.