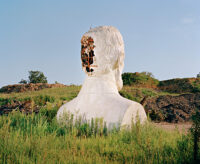 Max Pinckers, from the series Margins of Excess, 2018
When
2 March 2021
Tuesday, 6-7pm
(AEST)
Documentary photography and photojournalism face considerable challenges in the post-truth populist era. When political figures deliberately tell lies and mix facts and fiction, and everyone is a potential citizen journalist, is it enough for photographers to be merely a witness to the world? How are new methods of making, sharing and viewing photographs changing our perception of truth? What new forms of documentary practice are being employed by artists? An international panel will bring together the experience of photographers, curators and picture editors to explore the photographers' responsibility to 'bear witness' in the digital age.
The panel features Hoda Afshar, Ashley Gilbertson, Max Pinckers and Danie Sprague. It is chaired by Daniel Boetker-Smith, Dean of Photography, Photography Studies College and co-curator of the PHOTO 2021 exhibition Not Standing Still: New Approaches in Documentary Photography.
PHOTO IDEAS: WITNESS is preceded by a keynote by Egyptian photographer Laura El-Tantawy, exploring how these themes resonate in her work.
Free – booking required.
Presented in partnership with RMIT School of Art and Monash Gallery of Art.
Speakers
Hoda Afshar (IR/AU)

Born 1982, Tehran, Iran
Lives and works Melbourne, Australia

Born in Tehran, Iran, visual artist and lecturer in photography and fine art Hoda Afshar lives and works in Melbourne. Exploring the possibilities of documentary image-making and representations of gender, marginality and displacement, Afshar pairs photography with the moving-image.

Exhibiting and publishing her work locally and internationally, Afshar's work is also included in many private and public collections. Her exhibitions include Remain, UQ Museum of Art in Brisbane, Beyond Place, Museum of Photographic Arts, San Diego CA, USA , Primavera 2018, Museum of Contemporary Art, Sydney, and Waqt al tagheer: Time of Change, ACE Open, Adelaide. In 2015, she received the National Photographic Portrait Prize, National Portrait Gallery, and in 2018 she won the Bowness Photography Prize, Monash Gallery of Art, Australia.

Daniel Boetker-Smith (AU)

Daniel Boetker-Smith is an educator, writer, curator, publisher, and photographer based in Melbourne. Daniel has been the Higher Education Course Director at Photography Studies College (Melbourne) since 2013. Daniel is a regular contributor to the GUP Magazine, The British Journal of Photography, Voices of Photography, Vault, Photoeye, Paper Journal, Heavy, Source, and other Australian and international publications. Daniel is also the Director of the Asia-Pacific Photobook Archive, a not-for-profit library of self-published and independent photobooks. Daniel regularly speaks at festivals and symposia internationally on the subject of photobooks, photographic publishing and self-publishing in the Asia-Pacific area. He has been a judge at numerous international and national photographic competitions. He is also a nominator for the Prix Pictet Prize, World Press Photo, Fuse Book Award and other international competitions. He has curated a number of large international photobook events for the major institutions in Australia and internationally.

Ashley Gilbertson (AU)

Born 1978, Melbourne, Australia
Lives and works New York, U.S.

Ashley Gilbertson is an Australian photographer living in New York City, a member of the VII Photo Agency, and a founder of Shell Shock Pictures. Gilbertson's early work focused on refugees around the world, an interest that in 2002, led him to Iraq. His work from that country, made largely on contract for The New York Times, earned critical acclaim from, among others, the Overseas Press Club which awarded Gilbertson the Robert Capa Gold Medal for his 2004 work in Falluja. Gilberton's first book, Whiskey Tango Foxtrot, released in 2007 to critical acclaim, went on to become a best seller. After Iraq, Gilbertson shifted his focus to the home front where he specialized in veterans issues, working on stories that drew attention to post traumatic stress disorder, suicide, and traumatic brain injuries. Gilbertson's second book, Bedrooms Of The Fallen, a collection of photographs depicting the intact bedrooms of service members killed in Iraq and Afghanistan, was released in 2014. That work was published in The New York Times Magazine, and received a prestigious Ellie award.

Max Pinckers (BE)

Max Pinckers is an artist based in Brussels, Belgium. His oeuvre explores visual strategies in documentary photography. Not believing in the possibility of sheer objectivity or neutrality, Pinckers advocates a manifest subjective approach, which is made visible through the explicit use of theatrical lighting, stage directions or extras. Extensive research and diligent technical preparation are combined with improvisation to obtain lively, unexpected, critical, simultaneously poetic and documentary images. His work takes shape as self-published artist books and exhibition installations such as The Fourth Wall (2012), Will They Sing Like Raindrops or Leave Me Thirsty (2014), and Margins of Excess (2018). Pinckers is currently a doctoral researcher and lecturer in the arts at the School of Arts / KASK, Ghent and has received multiple international awards, such as the Edward Steichen Award Luxembourg 2015 and the Leica Oskar Barnack Award 2018. In 2015 he founded the independent publishing house Lyre Press.

Danie Sprague (AU)

Danie Sprague commenced her career in Artist management as a booking agent in Melbourne. Managing photographers, stylists and hair & makeup artists, she developed the skills and training to become a photographic stills producer, representing freelance photographers for both editorial and advertising photography. In 1996, with her now-husband Harry Rekas and his new free, street press Large, she facilitated numerous editorial cover shoots for the magazine. After taking the title to the UK, in 2003, Sprague moved overseas, where she continued to publish in a broader European market. Today and aside from my 'day job', she moonlights with Harry Rekas on a national, bespoke print periodical titled The Dura. Upon returning to Australia in 2005, Sprague was offered the position as Deputy Features Photo Editor at The Age in Melbourne, for Fairfax Media. Today, 15 years on, she is the Chief Photo Editor of The Age Newspaper mastheads, including The Sunday Age.