Talk: Conceiving the Photobook Project
21 May 2022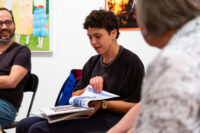 Image: J Forsyth, PHOTO 2021 Photobook Weekend
When
21 May 2022
Saturday, 2-3pm
(AEST)
Venue
37-47 Thistlethwaite St, South Melbourne
Accessibility
Wheelchair access
Price
Free, bookings required
In this three-part series experts will discuss the process of making photobooks in depth. From conceiving and shooting the project, design and creating the book as object, through to publishing, distribution and critique.
Part One: Conceiving the Photobook Project
How do you know when you're ready to make a book? The first panel conversation will discuss coming up with the idea for a project, shooting and refining it.
With Kristian Haggblom, Florian Hetz, Morganna Magee and chaired by Ying Ang.
Speakers
Ying Ang

Working as artist, educator and curator, Ying Ang's critically acclaimed book, Gold Coast, won the New York Photo Festival and Encontros Da Imagem book prizes for 2014. She fulfilled the role of chief curator for the Obscura Festival of Photography in Malaysia in 2016 and was the keynote speaker at the inaugural Photobook New Zealand. Her latest work, Bower Bird Blues, was a Vevey Images Grand Prix finalist, honorably mentioned for the Julia Margaret Cameron Award and exhibited in a solo show for Rencontres d'Arles in France in 2019. Ying was most recently featured in FIRECRACKERS: Female Photographers Now, a showcase of contemporary female photographers published by Thames & Hudson, and How We See: Photobooks By Women, featuring 21st-century photobooks by women photographers. Ying is currently teaching at the ICP in New York and is the Director of the Reflexions Masterclass in Europe and Le Space Gallery in Melbourne, Australia.

Kristian Häggblom

Dr Kristian Häggblom is an artist, curator and educator who works with cross-cultural engagement and expanded documentary. He first moved to Japan in 1999 where he co-founded/curated RoomSpace Gallery in Omoide Yokocho ('piss alley'), Shinjuku, and has an ongoing relationship with the country and its culture. He completed his PhD through Monash University in 2014, was the inaugural artist-in-residence at the Australia Council for Arts Finland studio and was the founder/curator of Wallflower Photomedia Gallery, Mildura, in regional Victoria. He has curated several exhibitions in experimental spaces, (a motel and jail), for large festivals including Mildura Palimpsest Biennale. Häggblom's most recent curated exhibition, Tsuka: An Exhibition of Contemporary Japanese Photography, was staged at the Centre for Contemporary Photography in Melbourne and included a public program and dedicated website.

Florian Hetz (DE)

Born 1985, Frankfurt, Germany
Lives and works Berlin, Germany

After a severe encephalitis put an abrupt end to his professional life as producer for theatre, Florian Hetz started to keep a visual diary to counteract the memory loss as an after-effect of the brain inflammation. He began documenting his daily life during the recovery. Gradually the process of taking diary photos shifted to creating photos that were based on his memories, or what he had to trust his memory was.

Much of the Berlin photographer's work from that time zooms in on those memories by using the close up as a stylistic medium. By closing in on those seemingly normal every day moments and bodies, he elevates them and translates them into his very own hyper focused, visceral language.

During an artist residency at the Tom of Finland Foundation in Los Angeles Hetz started to introduce landscapes and still-lifes into his work and began to engage with natural light. His second book "ZWEI" combines the clean, factual studio work from Berlin with the warm plein-air work from Los Angeles, and the juxtapositions create a dialogue between them.

And while his work still dissects the possibilities of the human body, he came full circle in 2020, when he started to concentrate again more on the diary photos. His new Book "AIKO" will be released at the end of 2021 and will introduce this body of work for the first time to the public.

Haut by Florian Hetz is supported by the Goethe-Institut

Morganna Magee (AU)

Morganna Magee is a based in Naarm ( Melbourne, Australia) living and working on the land of the Wurundjeri, Bunurong and Boon Wurrung people, the foothills of the Dandenong ranges. Her practice sits between storytelling and expanded documentary, creating work that pulls from an emotional response to the world whilst still being based in the documentary tradition. Her two-decade-long practice as a photographer encompasses commercial, editorial, and fine art. Her work has been awarded and exhibited both nationally and internationally recognised by institutions such as The National Portrait gallery Australia and Miami Art week.. She is a founding member of Lumina Collective an Australian collective of award-winning women and non-binary photographic artists breaking ground in visual storytelling and dissemination. She regularly is commissioned for editorial and large-scale community arts projects. Her images have appeared in The New York Times, The Guardian, The Age, Art and Australia magazine amongst others She has photographed major commissions for Wintringham Specialist aged care, The shire of Murrundindi, Victoria Police, the Mission for Seafarers, Ronald McDonald House and The Immerse Arts Festival among others. Morganna is the Major Discipline Co-ordinator for Photo Media, Swinburne University of Technology.