She who has no self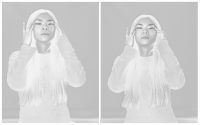 From the lens of contemporary life, Minstrel Kuik's art practice considers and questions the politics of place, family and cultural identity and how this intersects with personal experience.
Born in Malaysia of Chinese ancestry, she lives and works in a suburban neighbourhood on the outskirts of Kuala Lumpur where negotiating the tensions of different ideologies and social bounds is an everyday occurrence.
With photography at the core of her multidisciplinary practice Kuik works across the disciplines of drawing, photo books, fabric assemblage and installation. Diary-like snapshots and carefully constructed digital images form a distinctive output from which Kuik works and reworks. Interested in how the act of seeing is shaped by society, Kuik explores photography's equivocal relationship to truth to understand the self among the complexities of modern life in Malaysia.
This exhibition was part of PHOTO 2021's expanded program and can now be viewed online on the venue's website.
Curator
Alison Eggleton (AU)

Alison Eggleton is curator at Horsham Regional Art Gallery. Over the last 10 years Alison has worked with Australian artists, public galleries and large art institutions to deliver a variety of contemporary art exhibitions and public programs for the gallery. In 2018 she undertook a curatorial residency at Rimbun Dahan Art Residency in Kuala Lumpur, Malaysia.  In-2019 she begun practice led research examining curatorial dialogue and exhibition making as frameworks for understanding approaches to the representation of race, trans-nationality and gender. She is currently undertaking a Master by Research at RMIT in curatorial practice in Australia. Recent exhibitions Alison has curated include Minstrel Kuik: She who has no self  for PHOTO 2020 and Megan Evans :Unstable 2021 both held at Horsham Regional Art Gallery.