Hoda Afshar (IR/AU)
Speak the Wind
2 April 2022 - 26 June 2022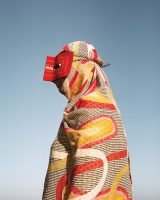 Image: Hoda Afshar, from the series Speak the Wind, 2015–20. Courtesy the artist and Milani Gallery, Brisbane.
When
2 April 2022 - 26 June 2022
Venue
860 Ferntree Gully Rd, Wheelers Hill
Tue – Fri, 10am – 5pm
Sat – Sun, 10am – 4pm
Accessibility
Wheelchair access
Winds have shaped the islands off the southern coast of Iran, in the Strait of Hormuz, and over many centuries, tides have brought to these islands an ancient and complex group of people. There is a commonly held belief that the wind can possess a person, and can equally be exorcised from them through an intense ceremony of dance and music.
In Speak the Wind, Iranian/Australian artist Hoda Afshar proffers an enigmatic view of the rituals and lives that play out within the astounding landscape of these islands. As she uses photography and moving image to ensnare and parse the winds of the Strait of Hormuz, Afshar also grapples with the history of documentary photography—its beauty and its limits.
Curator
Pippa Milne (NZ)

Pippa Milne is a writer and curator based in Melbourne. She is the Senior Curator at Monash Gallery of Art, Melbourne and has been working with photography since 2011. She was previously Curator at the Centre for Contemporary Photography, Melbourne and Associate Curator of International Art at Queensland Art Gallery / Gallery of Modern Art, Brisbane. Recent exhibitions Pippa has curated include Bill Henson: The light fades but the gods remain (2019), Architecture Makes Us: Cinematic Visions of Sonia Leber and David Chesworth (2018) (co-curated with Naomi Cass and Made Spencer Castle) and An unorthodox flow of images (co-curated with Naomi Cass) (2017). Pippa is a regular contributor to publications and institutions in Australia and New Zealand and has been a nominator for various prizes including ICP Infinity Award and Prix Pictet.