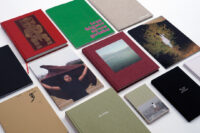 Introducing... Australia & New Zealand Photobook Award
31.1.21
In advance of the exclusive presentation of the Australia & New Zealand Photobook Award at PHOTO 2021's Photobook Weekend, Libby Jeffery—the award's coordinator and co-founder of Momento Pro—tells us about why the award was launched and how photobooks have become such an important part of contemporary photographic practices.
Hi Libby. Please begin by telling us what you love most about photography.
The way it makes you feel, the things you learn from it, and its ability to preserve moments and memories.
And what do you love most about what you do?
I love helping people who are passionate about photography and storytelling to be able to realise a book project and get it out into the world. I especially enjoy photo books that make me laugh, that will have artistic or cultural significance well into the future, or will generate awareness about a topic that doesn't get much airtime in mainstream media channels.
Why did you launch the Australia & New Zealand Photobook Award?
A few years into running Momento Pro, our print-on-demand photo book business, we saw so many photo books that deserved to be published but there were very few channels for Australian and New Zealand creators to make that happen. In 2011 we launched the Australian Photobook of the Year Award as a platform to bring antipodean photo book creators together, to grow a more supportive community for them, and to showcase their work to local and international audiences.
How has it evolved over the years?
The Australia and New Zealand Photobook Award is the offspring of the Australian Photobook of the Year Award established in 2011, and the New Zealand Photobook of the Year Award launched in 2016. Like many award series they run on blood, sweat and tears, so to keep them alive we merged them together in 2018 to create the Australia & New Zealand Photobook Award. They are now held every two years. It has been so fulfilling to see the entries improve and the community grow stronger over the last ten years.
Do you have any favourite photobooks from previous years?
Aha! I don't have a favourite but believe that the books that remain true to their intention are the ones that are the most successful and make people 'feel' them more strongly about them. They stick with you longer. They make you want to return to them again. It doesn't matter if a photo book is big, small, made with high or low production values, is the work of a big name or an enthusiast photographer, for public or personal viewing—as long as serious thought has gone into the purpose, design and format and they're all in harmony, the book is a success. That's why 'fitness for purpose' is the primary criteria for the Award.
Why is it important for photographers to publish photo books?
'Printing' a book is more important that 'publishing' a book as it's the process of bringing photos to life in tangible form, and ensures that the photographs can still be accessed well into the future. The definition of 'publishing' has also evolved over recent years. 'Self-publishing' is now the most viable option for antipodean photographers as trade publishers find them too risky.
Luckily in Australia and New Zealand we have a strong network of independent publishers who nurture photo books into existence and work hard to give them the broadest distribution possible. And that's what it's about, getting the photographs seen and out in to the world beyond Instagram and exhibition walls, into the hands of people who can savour them properly and give them the time and attention they deserve.
That's why we have a range of award prizes that are designed to help photographers self-publish and promote their work and advance their career – care of Momento Pro printing credit, marketing assistance from Unless You Will, and publicity through the online arts publication Paper Journal. Exposure in the award catalogue and exhibition also increases awareness of the books and their creators, and that can lead to bigger things.
Why are photobooks so important for photographic practices?
Presenting a body of photographic work in book form makes it real, tangible and accessible. It is also a fitting climax for the effort that goes into conceiving, capturing and working with the images. Unlike a single print or a series of photographs in an exhibition, the book format allows you to create something more, something new, to make connections between images, and to tell a bigger story. Photo books are particularly relevant and powerful in the COVID-era as exhibitions are harder to host and audiences are smaller. A book can still travel across borders, and most importantly, through time so an artist's work can be visible for years to come.
We are thrilled to be presenting the finalists from the last Australia New Zealand Photobook Award at the Centre for Contemporary Photography as part of PHOTO 2021's Photobook Weekend. Is it the first time they have been exhibited in Australia? And any books in particular visitors should look out for?
Yes, this is their first outing in Australia following exhibitions in New Zealand and at The Library Project in Dublin. Of course visitors should check out the winning books by Cherine Fahd, Matteo Dal Vera and Michael Weatherill, but we'd love you to view them all then cast your vote for the People's Choice Award, as it's always fascinating to see if the judges and the public are on the same or opposite ends of the spectrum. The winner also receives $750 print credit to produce new work.
Which artists or exhibitions are you most excited to see at PHOTO 2021?
And finally, any advice for someone who is interested in publishing a photobook?
Make a plan, take your time, and get help from experts. If you want up-to-the-minute advice on publishing a photo book in Australia or New Zealand, you might find this webinar we hosted last year helpful too. It channelled 15 years of experience with Momento Pro and the Awards into a presentation that guides you through every step of the process and points out all the things that can make your book not just good, but superb. And finally, if you want to sell your own photo book one day, support other local photo book makers (and printing companies) by buying their books today. As Lesley A. Martin from Aperture Foundation says, "It's a karmic thing!"