Bowness Photography Prize Celebrates 15 Years
19 February 2021 - 7 March 2021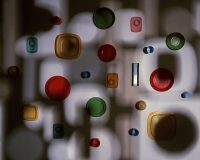 Image: Jacky Redgate, Light throw (mirrors) #4, 2011 from the series Light throw (mirrors), 2010–11, Monash Gallery of Art, City of Monash Collection. Courtesy the artist.
When
19 February 2021 - 7 March 2021
Venue
14 – 16 Collins St, Melbourne
Mon - Sat, 10am – 5pm
Accessibility
Wheelchair access, Accessible Toilets
In 2020, the Bowness Photography Prize marked its 15th year. To celebrate, Monash Gallery of Art has partnered with Smith & Singer to showcase the previous 15 recipients during PHOTO 2021 at their Collins Street premises. The Bowness Photography Prize is an important annual survey of contemporary photographic practice and one of the most prestigious prizes in Australia.