I'm Everywhere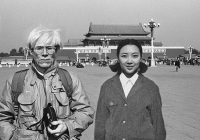 When
19 February 2021 - 7 March 2021
Venue
263-269 Elizabeth St, Melbourne
Billboard: Viewable all hours
Store open during events
Accessibility
Wheelchair access
Due to lockdown restrictions delaying installation of this exhibition, I'm Everywhere will now be installed on 19 February.
In I'm Everywhere, Silin Liu highlights the ever-present persona of the artist by travelling through time and space as her alter ego, Céline Liu. Inserting herself into significant moments in history, Silin ponders the role of photography in the era of cultural globalisation, the irrational worship of icons, and our understanding of images as vehicles of historical storytelling.
The two images exhibiting above Michael's camera store for PHOTO 2021 depict Céline Liu chatting with Frida Kahlo in Mexico, and standing beside Andy Warhol in Tiananmen Square. Each image is the result of a meticulous week-long digital work-process that places charismatic Céline into the familiar settings of our cultural memory.