It was the best of times, it was the worst of times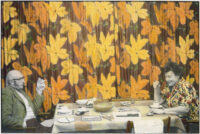 When
26 February 2021 - 18 April 2021
Venue
404 George St, Fitzroy
Wed – Sun, 11am – 5pm
Accessibility
Wheelchair access, Accessible Toilets
Due to lockdown restrictions delaying installation of this exhibition, It was the best of times, it was the worst of times will now open on 26 February.
CCP presents a major survey of one of Australia's preeminent social documentary and feminist photographers, Ruth Maddison. The exhibition celebrates Maddison's significant contribution to the documentation of Australian life and society from the 1970s to the present—from her earliest iconic hand-coloured works, the working life of women, Melbourne's social and cultural life of the 1980's, and Maddison's documentation of the people and industries of her adopted home of Eden.
CCP will premier Maddison's The Fellow Traveller, an immersive photographic installation exploring her father's radical political activities from the 1950s–1980s that were under ASIO scrutiny, including his travels to Soviet Russia, China and Cuba. Combining archival material, footage and hand-coloured photographs among a sea of revealing and curious images, The Fellow Traveller reveals the shifting nature of long held personal and historical truths at a time of increasing social and political urgency.
Ruth Maddison: It was the best of times, it was the worst of times has been assisted by the Australian Government through the Australia Council, its arts funding and advisory body.