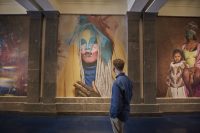 Some PHOTO 2021 exhibitions now open
24.11.20
With COVID restrictions easing many of the wonderful galleries and arts venues across the state have opened their doors, meaning we can now get out and explore all that the creative state of Victoria has to offer.
We are super lucky that some of the projects and exhibitions in PHOTO 2021 are opening ahead of the festival dates, and there is no better time than now to get out and see work by incredible artists including Destiny Deacon, Tracey Moffatt, Trent Parke, Atong Atem and many more.
All exhibitions are free but may require registering for tickets in advance, see the links below for more information about each show.
DESTINY DEACON (AU) KUKU, ERUB/MER
DESTINY
23 November – 14 February
The Ian Potter Centre: NGV Australia
Destiny Deacon (Kuku, Erub/Mer) is internationally renowned for her darkly comical work that offers a nuanced, thoughtful and, at times, intensely funny snapshot of contemporary Australian life. The largest retrospective of Deacon's work to date, DESTINY is a collection of more than 100 photographs, videos and multi-disciplinary works made over more than three decades. The exhibition includes the world premiere of a new body of work, as well as an early collection of videos that have never before been exhibited at the NGV.
ATONG ATEM (SS/AU)
To Be Real
23 November – 7 March
Immigration Museum
Surreal mythologies and constructed un/realities are brought to life in To Be Real, a major new commission by South Sudanese/Australian artist Atong Atem for PHOTO 2021. Atem is known for exploring migrant narratives, postcolonial practices in the diaspora and identity through portraiture. Her dynamic compositions are drenched with colour, pattern, and potent visual references.
No True Self
9 September – 20 December
Centre for Contemporary Photography
Emerging artists from Austria, Belgium, Finland, Germany, Poland and Sweden reflect on the impact of technology on the presentation of self in this Australian exclusive. This exhibition reflects on the way digital technologies mediate our relationships through virtual and physical realities, and the effects on our performance of self.
Montages: The Full Cut, 1999–2015
23 November – 14 March
Art Gallery of Ballarat
The full suite of eight montage films by Tracey Moffatt and her long-time collaborator Gary Hillberg. Created using deliberately-stylised artifice that references the history of art and photography, Moffatt's work is celebrated for the masterful way it manages to communicate the highly personal alongside meanings of universal significance.
TRENT PARKE (AU)
Ballarat Avenue of Honour
23 November – 14 March
Art Gallery of Ballarat
In honouring WW1 soldiers from the Ballarat region, photographer Trent Parke explores the tension that exists between an image captured at a moment in time, and the organic, evolving nature of a living memorial.
DAVID NOONAN (AU)
Stagecraft
14 November – 31 January
Art Gallery of Ballarat
Stagecraft brings together silkscreen collages on fabric, tapestries and film by Ballarat-born artist David Noonan. Renowned for repurposing found photographs, Noonan uses images from his personal archive to create ambiguous works, often with a focus on a solitary haunting figure.
JACKY REDGATE (AU)
Hold On
7 March – 14 February
Geelong Gallery
Jacky Redgate is known for the systems and logic that inform her sculptural and photographic works. Hold On reflects on how she has recalled the autobiographical images and subjects of her juvenilia, while continuing to make conceptually based photographs over the past decade.