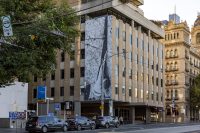 Open Call announced for PHOTO 2022 International Festival of Photography
30.3.21
PHOTO 2022 International Festival of Photography is seeking expressions of interest from emerging, mid-career and established artists and photographers to participate in the Festival's outdoor program. Also announced are the dates for the 2022 biennial, which will run from 29 April to 22 May 2022 with the central theme: Being Human.
The outdoor program was a prominent part of the PHOTO 2021 program with public realm commissions by 35 artists transforming Melbourne into an outdoor gallery of contemporary photography. Established artists from across the world—such as Zanele Muholi, Hoda Afshar, Broomberg & Chanarin, Sam Contis, Kenta Cobayashi and Brook Andrew—exhibited work in Melbourne's streets, laneways and public spaces alongside emerging and mid-career artists including Daniel Shea, Sara Cwynar, Jesse Boyd-Reid and Hayley Millar Baker.
The Festival's outdoor program sits alongside a program of exhibitions presented at leading museums, galleries and cultural institutions.
PHOTO 2022 will once again present a festival of new photography with artists from across Australia and around the world all focusing on a single theme from multiple perspectives. This year's curatorial theme Being Human asks: What is the human experience today? What lived experiences unite us? And what drives us apart?
"This is the opportunity for artists from across Australia and around the world to be part of our global celebration of photography. By focusing on the issues most important to our times we are connecting the arts and photography with different elements of our lives across science, psychology, sociology, technology, current affairs and many other areas. We work with artists from around the world to amplify diverse voices and, with PHOTO 2022, we want to explore the big themes and the minutiae of everyday life that constitute the human experience today." says Elias Redstone, PHOTO 2022's Artistic Director.
The Open Call invites artists and photographers to submit proposals to work with PHOTO 2022 in the delivery of temporary public artwork which respond to the central theme Being Human. Entries close at 5pm (AEST) on Thursday 29 April 2021.
Entries will be reviewed by an international jury formed from PHOTO 2022's curatorial advisors, including: Mariama Attah (Curator, Open Eye Gallery / LOOK Biennial, Liverpool), Varun Gupta (Co-Founder & Biennale Director, Chennai Photo Biennale), Alona Pardo (Curator, Barbican Art Gallery, London), Dr Shaune Lakin (Head Curator of International Art, National Gallery of Australia), Isobel Parker Philip (Senior Curator, Contemporary Art, Art Gallery of New South Wales), and others.
The scale and scope of the Festival's outdoor program can be seen through the PHOTO 2021 Virtual Tour which documented each of the 35 works in the 2021 program.